At a ceremony honoring oncological professionals who distinguish themselves with compassion, the world-famous doctor-clown comments, 'I can't imagine a prize more beautiful than a prize given for compassion.'
President Reuven Rivlin and his wife hosted Wednesday the Danielle Prize—Healing with a Heart Awards Ceremony of 2017 at their official residence. A special prize was also awarded to the eponymous doctor immortalized in the 1998 film Patch Adams by the late Robin Williams.
The Danielle Prize, presented to 12 doctors and nurses employed in hospital oncology units in Israel, acknowledges the efforts of hospital medical personnel who distinguish themselves in the compassion and care that they bestow upon their patients. This is the prize's second consecutive year.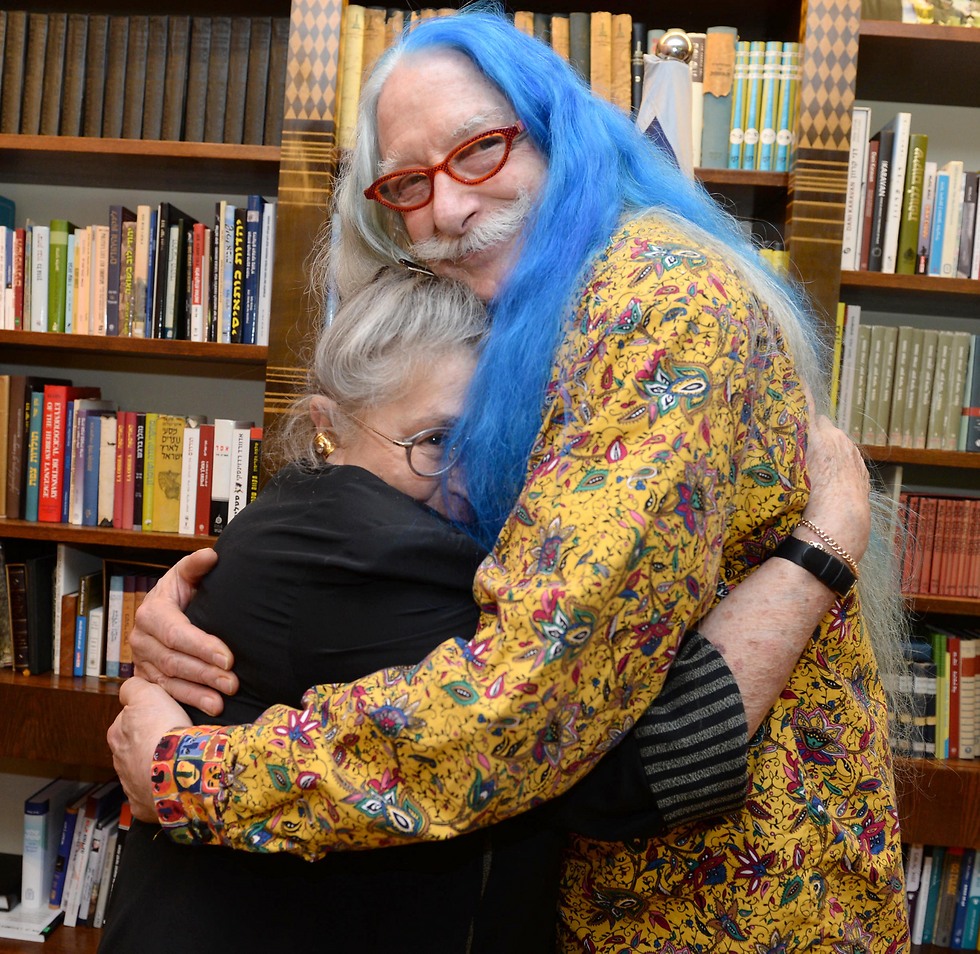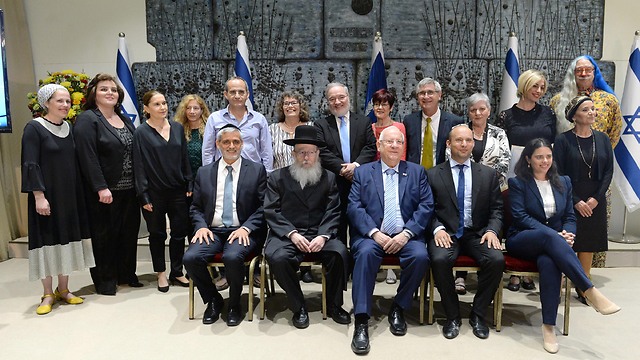 Back row: Prize winners; front frow L-R: Eli Yishai, Yaakov Litzman, Reuven Rivlin, Naftali Bennett, Ayelet Shaked (Photo: Mark Neiman/GPO)
"Being a good doctor is more than just understanding the science of medicine; It's understanding the science of the human being," President Rivlin remarked at the event. "Medicine, advanced as it may be, that lacks compassion, devotion, goodness of heart and love of mankind is sorely deficient."A good doctor is more than just a skilled professional; he is one who manifests personal integrity and dedication. A good doctor is one who treats the patient, not just the illness. It was Maimonides who said that the illness of the body and soul must be treated jointly, and a good doctor views each patient as one and only, special."
After receiving his prize, Dr. Patch Adams shared, "I can't imagine a prize more beautiful than a prize given for compassion. It is a thing that could save the world. It is a great honor to be called 'compassionate.'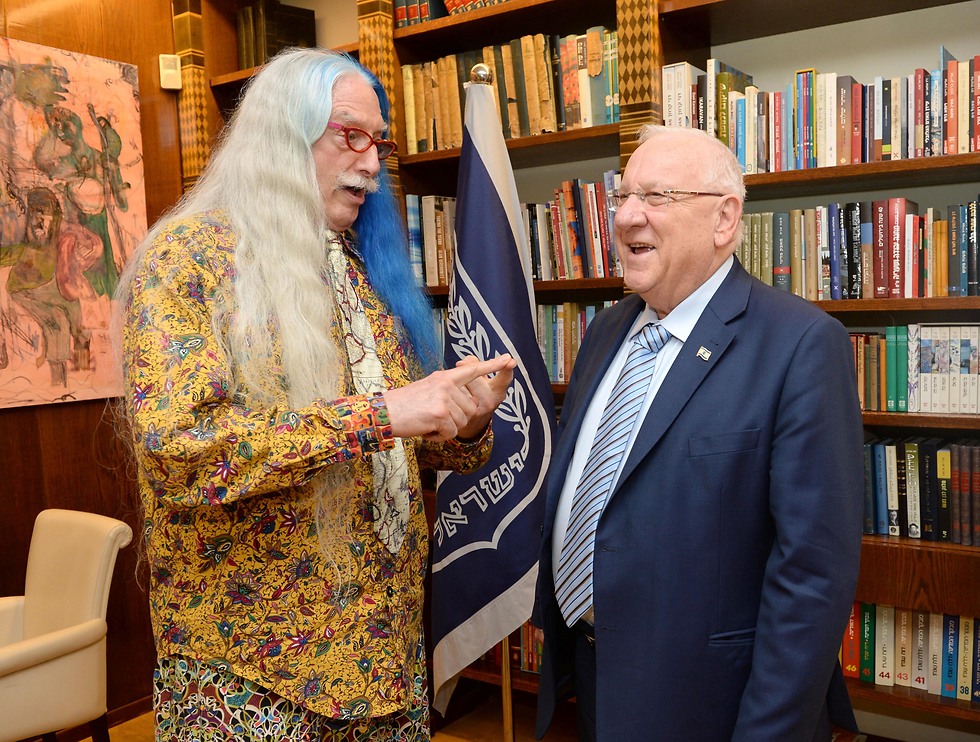 "I've clowned in 83 countries. People hunger for love all around the globe. For me, clowning is a trick to get love close. As a clown I can do things that people are too frightened of love to allow you to do. According to my experience, love and compassion can cure; they are real pain relievers."
Among those attending the ceremony were Minister of Health Rabbi Yaakov Litzman, Ashkenazi Chief Rabbi of Israel David Lau, Minister of Education Naftali Bennett, Minister of Justice Ayelet Shaked and former ministers Professor Rabbi Daniel Hirschkowitz and Eli Yishai.Full list of 2017 Danielle Prize—Healing With a Heart awardees:
Dr. Avivit Neuman-Orbach, senior doctor in Rambam Hospital's Oncology Unit
Prof. Dina Ben-Yehuda, Director of Hematology Unit in Hadassah Hospital in Jerusale
Dr. Hila Magen, senior doctor in Hemato-Oncology Unit in Beilinson Hospital
Dr. Talia Golan, Medical director of Preliminary Clinical Studies, Sheba Medical Center, Tel Hashomer
Prof. Nathan Cherny, Director of the Cancer Pain and Palliative Medicine Service and Oncology Institute in Shaare Zedek Medical Center
Dr. Shai Yagne, Director of Hematology Unit, Poriya Hospital
Asnat Avinaim, executive secretary in Oncology Institute and clinical study coordinator, Poriyya Hospital
Yael Orbach, nurse in the Oncology Institute of the Kaplan Hospital
Maya Krikheli, nurse in Oncology Unit, Sheba Medical Center, Tel Hashomer
Miriam Pinhas, nurse specialist and treatment coordinator in Oncology Outpatient Clinic, Meir Hospital
Ronit Gold, Clinical counselor and coordinating instructor in the Oncology Outpatient Unit, Ichilov Hospital
Rachel Huss, nurse in Oncology Day-care ward, Shaare Zedek Medical Center